Tool belts are an essential part of any construction project. They help you work more efficiently and safely while on the job.
A tool belt is a critical component of any serious tradesperson. It can help you organize your tools, improve efficiency, increase comfort, and potentially improve the quality of work. Some people have hesitancy wearing it at first as it is heavy or may look funny, but after giving it a serious chance, you'd be hard-pressed to find people who don't appreciate their utility.
Many homeowners like to do home improvements and repairs by themselves. Some even make a hobby out of it or even some cash-flipping houses yourself. If you are thinking of doing more than just changing a lightbulb in the house, a tool belt might be a worthy investment for you to consider.
Is carrying tools the best feature of a tool belt? You might be thinking that using a tool belt is too excessive for people who will only be doing home repairs and small carpentry DIY projects but that is not the case. Using a tool belt can still improve the work of small projects by keeping your tools easily within reach safely.
Who uses tool belts the most?
Tool belts are commonly used in a variety of occupations including construction, carpentry, electrical work, steel workers, plumbers, and more.
These tradespeople utilize various types of tool belts to hold the many tools and fasteners they work with right at their sides making it quick and convenient to work. They get paid for their work, so every minute searching for a tool is a minute they could have been spending finishing the project.
Depending on the type of worker, their tool belts can change. Electricians often carry many more screwdrivers and pliers to work with wires needing many smaller pockets on a tool pouch, whereas a framer carries a few tools and many fasteners requiring large open pockets.
What is a hobbyist?
Hobbyist tool belt users are DIYers or weekend warriors who have some interest in carpentry but do not consider themselves professionals. They may just be doing some work in their own home or some work for friends or family and probably not getting paid for it. They likely know basic carpentry and repair skills but are not fully experienced in a professional working environment. However, that shouldn't scare novices away from minor projects- though do consider hiring a professional if there is potential for more danger like large ladders, or electrical work.
What are the common types of tool belts hobbyists use?
The most common types of tool belts for hobbyists in carpentry include:
Tool Apron
Similar to what a chef wears, some beginners use this to hold certain tools in their front pockets. However, most people quickly outgrow the lack of organization, weaker durability, and less comfort from all the weight around one's neck.
Tool Pouches
This is the type of tool belt professionals use, and some more serious beginners can jump right to these. There is nothing wrong with using a higher grade of tool pouches, but they can be overkill in size, amount of pockets, durability, and importantly cost; for a professional working 40+ hours a week, a $350 tool belt is a worthwhile investment, but for a weekend warrior probably isn't looking to spend more than $50.
One-piece tool belt
Made of either nylon or often suede, this combines decent durability and organization with a more cost-effective solution. This is not what a full-time framer is going to where, but those looking to do smaller projects will easily be able to get it done with this. They are not made to handle serious work but are more than capable of the occasional weekend session for multiple years. Additionally, the price is right at less than $50 for most reputable brands.
R Dawg Tool Belts for DIYers and Hobbyists:
R Dawg's 11-pocket Suede Leather Tool Belt – We sell a suede leather one-piece tool belt designed specifically with hobbyists in mind. It is made of suede leather which is still durable, lightweight, and cost-effective. Furthermore, there is a balance of specific tool holders and open pockets for fasteners.
Who are the professionals?
Carpenters– They are the most common type of construction worker. Their role is to build and repair structures made from wood, such as houses, decks, and fences.
Construction Workers- A construction worker is someone who is employed as part of a construction crew and will perform various tasks that involve the skilled use of tools on different construction sites from residential homes to large commercial projects.
Electricians- These are skilled workers that are highly knowledgeable on all things electric. They are equipped with advanced tools and know how to safely deal with problems related to electricity.
What tool belts do professionals use?
Pouches– Construction workers have specific tasks that need to be done efficiently, and they most commonly buy individual pouches they can assemble how they want for the job. They are made of leather or nylon and designed to handle the roughest of daily use.
R Dawg Tool Belts and Accessories for professionals:
It is made entirely from top-grain cowhide, making it very durable but still flexible and soft. It has several individual slits on your right dominant side to hold them steady where you need them, and more open pockets on the left for fasteners. It has a 3" wide belt providing extra comfort and can be removed easily for maximum customization.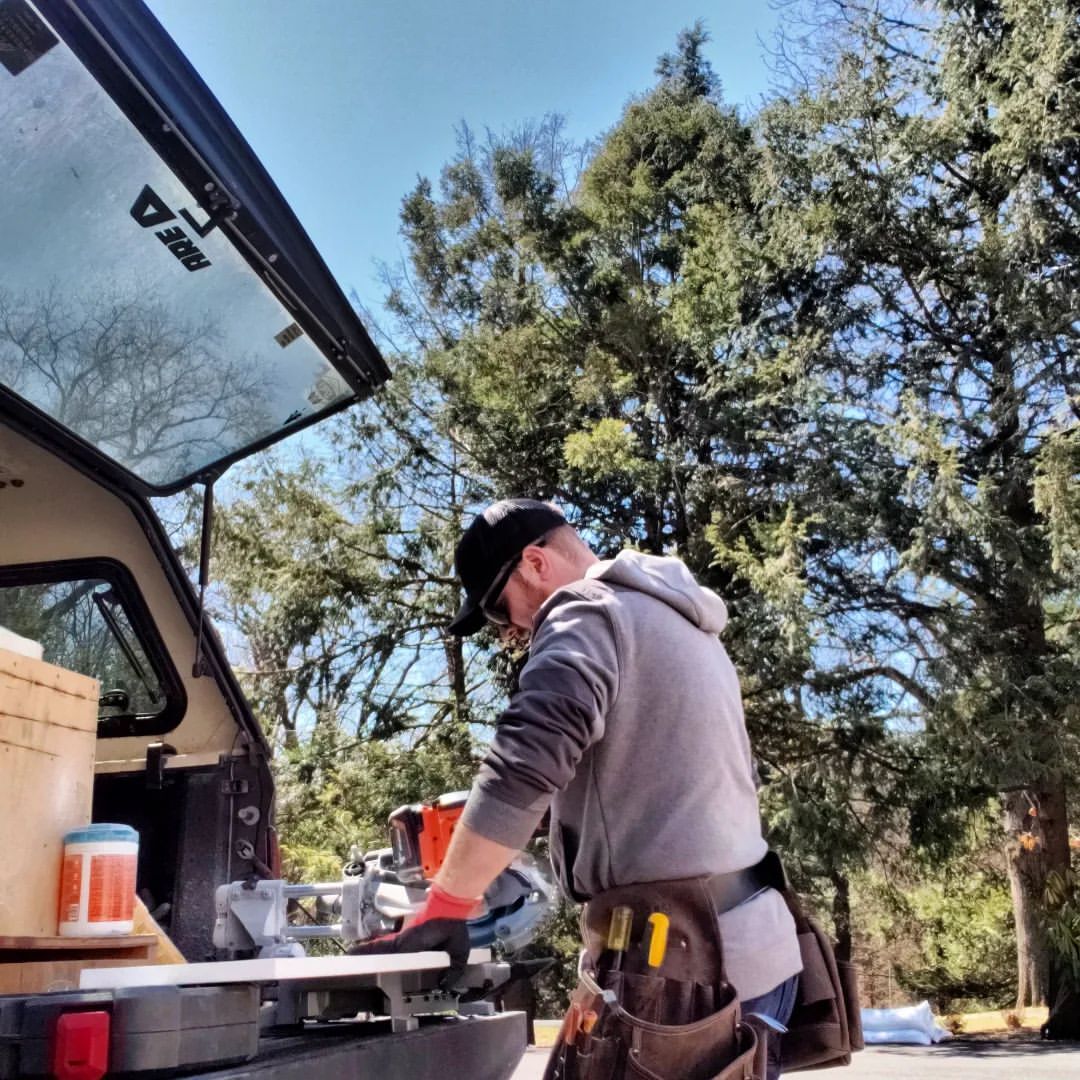 This hammer holder is designed to hold any hammers, axes, or similar hitting tools. It has a large leather base so that it reduces the swinging, and hitting on one's leg when wearing.
The R Dawg Multitool Holder is a versatile and useful organizer that can keep your tools organized nicely. A durable leather pouch with multiple holders for smaller jobs where you don't need a full sized tool rig.
This work belt is made of R Dawg's signature 3mm top-grain leather for maximum durability and lightness. It is built to handle the roughest of wear and tear, and still look stylish.
What are some considerations when looking at the material used in tool belts?
When looking for a tool belt, there are a few things to consider:
Material- The material of your belt is one of the biggest determining factors in how it will perform for you. Leather and canvas are traditional options, but modern materials like nylon have also become popular.
Fit- Some belts are designed to be worn higher on your stomach for more support, and others can include suspenders or a vest for more weight distribution. Depending on your size and the job, you should make sure that whatever you buy fits right as it needs to be comfortable.
Size- Tool belts come in different sizes, so make sure you get one that will meet your needs without being too large or small.
Quality control measures- Look for tools with features like reinforced stitching at stress points to ensure they won't fail prematurely due to poor construction quality control measures during manufacturing processes
Conclusion:
Are you a professional who like building homes or are you still learning carpentry? Being a good carpenter starts from the skill itself, but also depends on the tools you have. Consider the types of jobs where you are most likely to need your tools close at hand. A tool belt that includes detachable pockets, pouches, and loops will give you more versatility to organize the belt for a specific job.
If you want to know what tool belt suits you best, check out our shop: https://rdawg.com/shop/